Having now replaced a few mechanical parts including the engine (!) i am now tidying up some loose ends, like the passenger window is not aligned properly and needs 'help' to pop into place every time i close it.
Hopefully you can see what i mean in this pic. I cant figure out how to post a full size image but this should be clickable.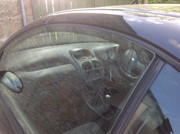 The top of the window is sticking out just about enough to be able to pass a pound coin through the gap!
Easy fix?